Getting to Zero HIV in Thailand: Is It Possible?
By Austin Padilla
Over 30 years have passed since the first reported infection of HIV in Thailand and the Southeast Asian nation still reports over 10,000 new HIV infections annually. Different geographic regions of Thailand have felt different impacts of the HIV epidemic, but leaders in every region remain in observation of a common concept – there are certain Thai communities that are disproportionately affected by HIV.
In the densely populated city of Bangkok, Dr. Nittaya Phanuphak is Director of Prevention at the Thai Red Cross AIDS Research Centre. The Research Centre is a branch of King Chululongkorn Memorial Hospital, one of the city's largest hospital sites. Its operating clinic serves as the primary source for HIV prevention access and testing in Bangkok. It also houses a new fully operating anal health clinic. Along with providing on site services, Dr. Nittaya and her prevention team are aiming to curve the Thai HIV epidemic soon; their main aspiration is to reduce the annual amount of new HIV infections from over 10,000 to only 1,000 by 2030.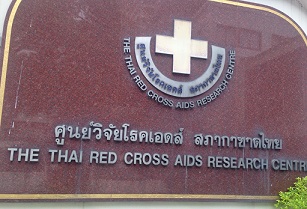 Dr. Nittaya is especially passionate about her focus on efforts involving an analysis of key populations in Thailand that have been disproportionately affected by the epidemic. Her plan involves increasing the estimated 30% of MSM (men who have sex with men) who are tested in Thailand to 90% by 2030. Similarly, a nationwide survey reported that only half of all Thai sex workers were tested for HIV, likely due to stigma. This stigma is encompassed by an anticipated fear around getting tested. In addition to specific goals for MSM, the prevention team aims to increase the amount of Thai sex workers who are tested from roughly 50% to 90% of all sex workers.
Thailand has been in a struggle to destigmatize testing for many decades. The name of the HIV testing clinic at the Thai Red Cross in Bangkok is "Anonymous Clinic". Although HIV testing can be done on site for patients, the underlying stigma of getting tested for HIV is prevalent. In addition to systemic issues such as this, there is currently not enough HIV testing clinics in Thailand to administer the 1 million additional tests that ought to take place every year.

The entrance to Anonymous Clinic
A new valuable concept that could be brought to life in Thailand is the use of new social networking tools to communicate between providers, involving both providers who serve HIV positive patients and those who serve HIV negative patients who may be at risk. From this style of networking, Dr. Nittaya advocates that providers and organizations will have the ability to communicate with one other and provide each other with relevant updates.
Eight hours north of Bangkok, in the mountainous city of Chiang Mai, Dr. Khuanchai Supparatpinyo oversees research at the Research Institute for Health Sciences at Chiang Mai University. His studies have found him primarily focusing on MSM and transgender communities throughout Thailand. "Things are getting a bit better, but we are still seeing many new infections among youth, MSM and transgender people." Dr. Khuanchai believes there is a young, less educated generation that is at a disproportionately high risk for HIV.
Similar to MSM and transgender people, the youth of Thailand may encounter problems accessing newer methods of prevention. "There is currently no patient assistance program for PrEP in Thailand," explained Dr. Khuanchai. However, he remains confident that he may soon be able to ensure funding for more PrEP trials. Dr. Nittaya echoes his optimism in regards to PrEP. "We would like to reduce the monthly price of PrEP for Thai people from $30 to only $10," states Dr. Nittaya. "Why wait? We should make it more accessible to our key populations."
Visions of hope for getting to zero HIV can also be found within Chiang Mai University's AIDS Clinical Trial Unit, where many patients can access treatment through enrollment in a clinical research trial. The Unit's community involvement is comprised of two different community advisory boards, whose demonstration of collective impact can be seen in the diversity of their community boards. The makeup of the board is diverse and includes researchers, monks from local temples and other community members who have joined the advisory board in order to represent those in their communities who have died from AIDS.
Three hours northeast of Chiang Mai, not far from the Burmese border, lays Mae Fah Luang University, founded in 1998. Dr. Tawatchai Apidechkul, a Professor of Epidemiology at the School of Health Sciences, surveys hill tribe communities and local indigenous peoples in order to analyze the current HIV epidemic in Chiang Rai and surrounding provinces. His research has proven that inequalities in economics and education are driving the epidemic in combination with risky behavior. Similar to the U.S. epidemic, his research points to a higher prevalence of HIV among uneducated youth in specific communities.
Mae Fah Luang University is named for its founder, the current king of Thailand's mother.

Dr. Tawatchai spoke about why these youth are still experiencing strong effects of the HIV epidemic. Some move from their native regions to big cities, often trading hard labor for sex work. Others have not received a proper education involving HIV prevention. A perfect example of such a community is the Akha hill tribe. According to Dr. Tawatchai's study of HIV/AIDS among the Akha people, published in the Asia Journal of Public Health in 2012, 55% of Akha people had not received a formal education, let alone HIV prevention education. Language barriers lead to 90% of people being unable to converse in Thai, leaving them left behind and marginalized, unable to understand important health messages from providers. Statistics echo marginalization – from the beginning of the epidemic up until 2010, 46% of new HIV infections in Chiang Rai province have been among the Akha people.
"There is a similar issue happening with healthcare equality," explains Dr. Tawatchai. "We may have a large quantity of hospitals, but the quality may not be the same everywhere."
Regardless of the long road ahead for Thailand, in Bangkok, Chiang Mai and Chiang Rai alike, local and national leaders remain hopeful that they can speed up the process toward ending the HIV/AIDS epidemic. "We now have RAPID ART in Thailand, and when it comes to prevention, the Ministry of Health understands," states Dr. Nittaya, "We are in agreement that the only way to achieve our goal is to increase testing coverage nationwide."

Special Thanks :
Udom Likhitwonnawut, Global CAB Member
Niwat Suwanphattana, CMU CAB Member
Taiyou Waltgins, Mae Fah Luang University
Warada Yensiri, Mahasarakham University
Main Photo: From left to right, Sineenart Nimsakul, CTU Coordinator, Monjun Wichajarn, CAB Coordinator, Myself, and Daralak Tavornprasit, CRS Coodinator