By Austin Padilla
I recently had the privilege of representing San Francisco's Getting to Zero Consortium, along with my colleague Dr. Oliver Bacon, at the 2015 North American Housing and HIV/AIDS Research Summit in Washington, D.C.
The amount of other people and jurisdictions coming together for the common causes – and appropriately themed title of the summit – "the social drivers of HIV" was awe-inspiring to say the least. As a young gay man and a founding member of the Getting to Zero group here in SF, it was inspiring to be in our nation's capital among original members of the United States' ACT UP, the AIDS Coalition to Unleash Power, and members of jurisdictions from Canada, including British Columbia, a province that has officially announced a plan to work toward an AIDS free generation, speaking among other people who have worked tirelessly upon the issues that come about when we discuss social drivers.
First, talking about social drivers of HIV means one must go beyond thinking of someone as a positive or negative statistic. Instead, at the forefront is the focus on quality of life of individuals at risk for HIV and whether they have access to basic human rights. That includes what is possibly the most highly discussed human rights issue in San Francisco. One could surmise that if you're sitting here reading this blog, that perhaps have a nice place to go to the bathroom and lay your head at night. You experience the benefits of having housing and understand what it is I'm talking about. When one does not have those things, it isn't as easy to run away from HIV even if that is what they desire.
What HIV activists know in regards to San Francisco and housing from our most recent Epidemiology Report from San Francisco's Department of Public Health is that 11% of new HIV infected individuals in San Francisco last year were homeless. We also ought to know that in our nation, about 40% of homeless youth identify as LGBT. I encourage every person who wants to help end our local epidemic to think about the crossover between those two issues.
Beyond those statistics, I encourage you to think about whether the youth and homeless population in our city truly have the support they will take to keep them from falling victim to other social drivers of HIV. Substance abuse problems that take a turn for the worse and untreated mental illness often go hand in hand. Unfortunately, many individuals congregating in San Francisco often still lack support and linkage to care and support services from which they would greatly benefit.
Instead of receiving those services, many youth who are at risk of contracting HIV due to the social drivers discussed above will risk ending up in a new jail San Francisco plans to build next year. As a 24-year-old HIV-positive Latino, I feel that it is necessary to recognize the amount of LGBT and HIV-positive youth who will potentially end up there – and I am especially concerned for young gay men of color. I'm not alone in my concerns. As original ACT UP member Virginia Shubert phrased it at the Research Summit's Advocacy Learning Institute, "One single arrest can completely change their trajectory".
The political easy thing to do is to go home, slap your head on that pillow and forget all about our City's housing crisis in San Francisco and how it relates to HIV and AIDS. It won't be as easy for those of us who live in the Tenderloin, SoMa and the Mission and see the decaying of individuals on our streets in front of our own homes, or for those in the Bayview, Hunter's Point and elsewhere in San Francisco who have lost an HIV-positive family member to street violence, the criminal justice system or suicide. These are the deaths that don't occur in hospital beds.
Speaking out about the link between HIV/AIDS and its social drivers – housing, mental illness and substance abuse – will be crucial as a part of our work to get to zero HIV infections, zero HIV deaths, and zero HIV stigma.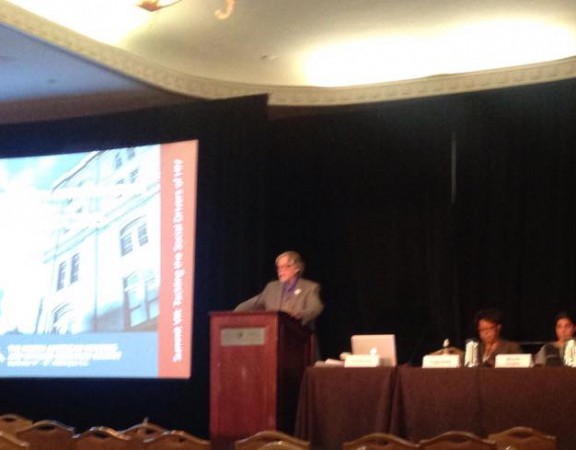 Charles King, original ACT UP member, speaks at the 2015 North American Housing and HIV/AIDS Research Summit. Charles has been arrested numerous times for protests regarding AIDS activism, including on Capitol Hill in 2012.